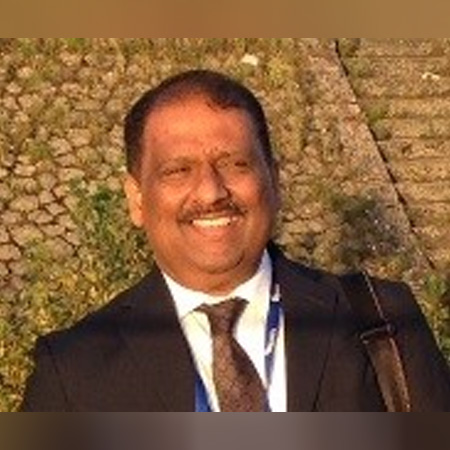 Mr Prathap Chandra Shetty
Fisheries and Aquaculture Value Chain Expert
Present
Fisheries and Aquaculture Sector Management Expert for FAO of the United Nations.
Assessor BAP & Global GAP, National Accreditation Board for Certification Bodies (NABCB).
TWG Member, Global Food Safety Initiative (GFSI). Post-Harvest Handling of Terrestrial Animals and Farmed Seafood ( Consultant / member).
Past
Thirty five years of professional activity in International seafood trade, processing practices, Sustainable Aquaculture Operations, International Food Standards, Seafood Trading, Trade capacity Building, Quality control, Sustainability, Social responsibility and Certification.
Standard writing with 150+ training manuals in HACCP, Management, Projects, and Training programs for the trainers- for all category of Fisheries operation and Aquaculture. Multilingual.
Technical Director, The Fish in Company, USA. One among the leading seafood supplier in the world, having retail outlets in all of the 50 states in the USA.
Executive Director, Emirates Star Fisheries, Dubai, UAE.
Director, Shui Aqua Bios Exports Pvt. Ltd., Karnataka, India.
Chief General Manager, Trimarine Food Pvt. Ltd., Cochin, Kerala, India.
Quality Control Manager – Training and Development, Saudi Fisheries Company, Dammam, K.S.A.
Travelled approximately 100 countries.
Developed general regulations and operating guidelines to enable Public Sector´s effective marine aquaculture zoning and area management, as well as and make recommendations on models of services.
The International Fisheries Infrastructure Expert, UNIDO Project on "Technical and Institutional Capacity Building for increase in production and development of the aquaculture and fisheries value chains in Ethiopia".
HACCP Advisor, Phase 1 &2, CTG for FAO/UNDP of the United Nations HACCP Certification Study and Local Capacity Development in Fishery Sector, a joint project , to implement the HACCP, Food Safety issues and Fisheries, Procedures for the Safe and Sanitary Processing and Importing of Fish and Fishery Products.
FAO ( 2019) - HACCP Certification Study and Local Capacity Development in Fisheries Industry , BOSASO SOMALIA, January 2019 , total pages 137.
Membership and Affiliations:
The World Aquaculture Society & Asian-Pacific Chapter.
Global Aquaculture Alliance .
Best Aquaculture Practices -Aquaculture Certification Council .
PROFESSIONAL COURSES:
"ISO 22000 and SA 8000" five days completed courses by The Food School,
HACCP Auditor, by SURE FISH, 413-3rd Ave., West SEATTLE, WA 98119.
Accredited Certifier, training By ACC (Aquaculture Certification Council, USA.
Project evaluation expert : AAAID (Arab Authority for Agricultural Investment and Development) Khartoum, SUDAN, Certifier for evaluation of Aquaculture projects in the Middle East.
Education
Masters in Fisheries Science, University of Agriculture Science, Bangalore.
Bachelors of Fisheries Science with emphasis on Aquaculture.